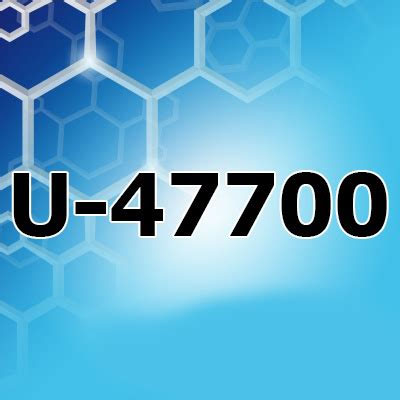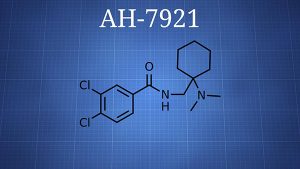 AH-7921 (doxylam)
According to its psychoactive effects, it is closest to morphine. First synthesized 45 years ago, it is currently available in most shadow online stores in the form of a powder for inhalation through the nose, or oral administration.
The literature describes several fatal cases that occurred immediately after the use of this substance.
Although AH-7921 has been extensively studied in animals, but not in humans, it has never been sold commercially for medical use. In 2013, it was discovered that AH-7921 was used as an active ingredient in "synthetic cannabis" products in Japan.
There were cases of doping of horses at horse races in 2015.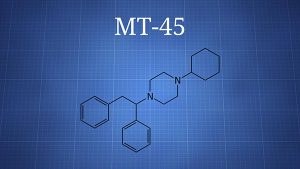 MT-45
It was synthesized in the early 70s of the last century, as a potential analogue of the well-known analgesic drug "Lefetamine". By its structure, it is a mu/delta/sigma agonist of opioid receptors. Currently, it is a very popular designer opioid among consumers, often used in combination with synthetic cathinones ("Wow"), or in an isolated version.
According to self-reports of MT-45 consumers, it strongly depresses breathing, affects hearing (up to the development of deafness). A slight increase in the dose can cause a fatal outcome.
Among other narcotic substances of this group, Nortilidine should be mentioned-it is an antagonist of NMDA receptors, and an inhibitor of dopamine reuptake, which is not inferior to morphine in pharmacological effects, due to its high activity against mu-opioid agonists W15 and W18.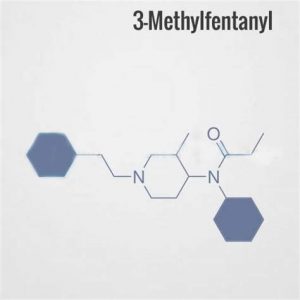 3-methylfentanyl
Synthetic opioid analgesic, a derivative of fentanyl. 400-6000 times stronger than morphine. Currently, this is the most common analog of fentanyl. The minimum lethal dose is 250 mcg.
3-methylfentanyl was first synthesized in 1974, and soon after it became widespread as a street drug and an alternative to artisanal alpha-methylfentanyl. However, 3-methylfentanyl turned out to be a much stronger opioid and, in this regard, represented a greater danger and attractiveness for drug manufacturers. There are even stronger opioids than 3-methylfentanyl, such as carfentanil or ohmefentanil, but their production is more complex, so they are not so widely represented on the drug market.
Due to the extremely low effective dose, even lower than that of fentanyl, 3-methylfentanyl is extremely dangerous. Perhaps, at the moment it is one of the most dangerous seals on the market – it is absolutely easy to allow an overdose, and an extra dozen micrograms of the drug entails inevitable death.
The points that produced the "white Chinese" appeared in large numbers all over the country. The most famous criminal case in this area was the case of a former teacher of the St. Petersburg Pedagogical University named after Herzen, who organized a laboratory for the production of "white Chinese"in a rented apartment on Bukharestskaya Street in St. Petersburg. Moreover, it was he who was the first to export the drug abroad. More than 100 people in Russia and Finland have become victims of this laboratory alone.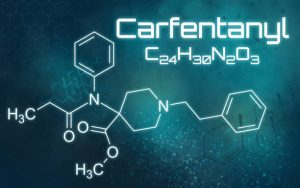 Carfentanil
Carfentanyl was first synthesized in 1974 by a team of chemists from Janssen Pharmaceuticals led by Paul Janssen.
The effect of this opioid exceeds fentanyl and morphine by 100 and 10,000 times, respectively.
The effect on the human body begins as early as 1 mcg.
The drug is present on the pharmaceutical market under the Wildnil trademark as a general anesthetic intended for large animals, because it is too strong for humans. The most powerful opioid used for medical purposes in humans is currently sufentanil, which is about 10-20 times inferior to carfentanil.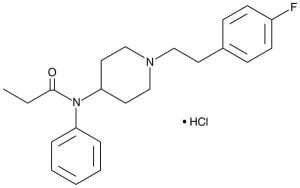 Para-fluorofentanyl (4-fluorofentanyl)
Parafluorofentanil is an opioid analgesic that is an analog of fentanyl developed by Janssen Pharmaceuticals in the 1960s.
4-Fluorofentanyl began to be sold on the US black market in the early 1980s, before the introduction of the Federal Drug Law, which for the first time tried to control entire groups of drugs based on their structural similarity, rather than banning each drug individually as they appeared , 4-Fluorofentanyl is produced with the same synthetic pathway as fentanyl, but by replacing para-fluoroanine for aniline in synthesis.
The side effects of fentanyl analogues are similar to the side effects of fentanyl itself, which include itching, nausea and potentially serious respiratory depression, which can be life-threatening.
Fentanyl analogies have killed hundreds of people throughout Europe and the former Soviet republics, since a wave of use began in Estonia in the early 2000s, and new derivatives continue to appear even now.
4-fluorofentanyl is much stronger than conventional fentanyl and deaths are associated with overdoses and respiratory depression.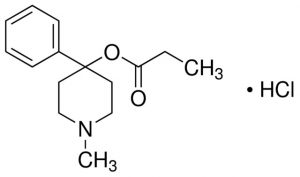 MPPP (desmethylprodine)
1-methyl-4-phenyl-4-propionoxypiperidine (MPPP, Ro 2-0718) is an opioid analgesic developed in the 1940s by researchers at Hoffmann-La Roche. Desmethylprodine has been labeled as a Schedule I drug by the DEA in the United States. This is an analog of pethidine (meperidine) of the Schedule II drug. Chemically, it is the reverse ester of pethidine, which has about 70% of the effectiveness of morphine. Unlike its derivative prodin, no optical isomerism was detected. It has been reported to be 30 times stronger than pethidine and greater analgesic effect than morphine in rats, and it has been demonstrated that it causes stimulation of the central nervous system in mice.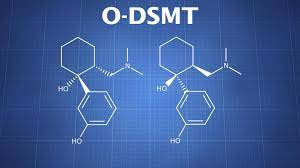 O-desmethyltramadol
An opioid analgesic, a metabolite of the opioid tramadol.
O-desmethyltramadol is the most important metabolite of tramadol, having 200 times higher affinity (binding) to the μ-opioid receptors than tramadol itself, and has a higher half-life (9 hours versus 6 for tramadol). Approximately 6% of people have slowed down the activity of the enzyme CYP2D6, and therefore O-demethylation will be slower, and, accordingly, the analgesic effect of tramadol will be reduced.
O-desmethyltramadol has two enantiomers, none of which exhibits the properties of a serotonin reuptake inhibitor, but only (-)-O-desmethyltramadol inhibits the reuptake of norepinephrine.
Desmetramadol was marketed as a substitute for illegal opioid drugs. In the form of a powder, or mixed with other drugs. It is reported that one such mixture, sold under the brand name Krypton and containing a powdered kratom leaf (Mitragyna speciosa) coated with desmetramidol, was associated with at least 9 accidental overdose deaths during 2010-2011.
The metabolic conversion of tramadol to desmetamadol is highly dependent on individual metabolism, which means that two users with the same tolerance to the opioid may experience completely different effects from the same dose. When used outdoors, as a rule, they start with much higher doses without taking into account individual sensitivity, which significantly increases the risk of overdose.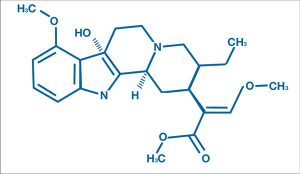 7-Hydroxymitragynine
An alkaloid contained in the kratom tree. It was found that it is much more powerful than morphine, especially when taken orally, but it causes significantly less harm to the body. This was the reason for the widespread use of almost all kratom alkaloids, not only as a narcotic substance, medical preparations were developed on its basis, which could be purchased through online stores. Today, 7-Hydroxymitragynine, like all derivatives, is banned.
7-Hydroxymitragynine has analgesic and sedative effects on the body. It affects mainly opioid receptors, especially affects the m-type receptors. The drug works as a stimulant, with small doses there is an increase in physical activity, endurance, brain activity is stimulated, a person becomes more sociable, more cheerful. Taking large doses is accompanied by the opposite effect. The drug works as a sedative, the body relaxes, it is used for minor pains, a euphoric state.
Side effects include: defocusing of vision, nausea, vomiting, dizziness, fever, depression, both after and during administration, weight loss.
7-Hydroxymitragynine can not be combined with stimulants, in order to avoid hypertension, tachycardia, and it is also not used with depressants, so that there are no problems with the respiratory tract.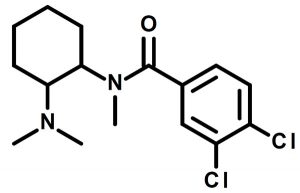 U-47700
It is a synthetic opioid substance of the chemical class benzamide, which gives analgesic, relaxing, calming and euphoric effect when administered.
This compound was originally developed by a team at Upjohn in the 1970s. Upjohn created more than a dozen patents for related compounds until he discovered that U-47700 is the most active. This was done by searching for the key functional groups that gave the greatest activity.
Very little is known about the toxicity of U-47700, and it has very little history of human use. It is currently available as a chemical distributed by online vendors. Many reports indicate that it has unique physical properties relative to most opioids, such as an unusual amount of causticity (the ability to destroy living tissue), which can make it significantly more dangerous to affect the body, especially when it is administered.